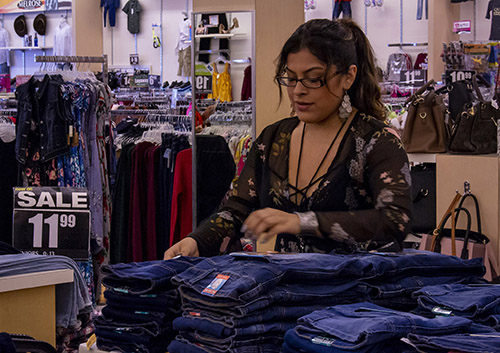 Rewards
We offer a happy work environment, competitive wages, comprehensive benefit package, on-the-job training and growth potential.
2021 Holiday Incentive
Sales Associates and Cashiers will earn an additional $0.50 per hour for every hour they work between October 1, 2021 through December 31, 2021. This incentive will be paid in a lump sum in January 2022 and you must be employed until December 31, 2021 to receive incentive pay.
Benefits
At a time when many companies are trimming their benefits packages, Melrose continues to be fully committed to offering full-time employees high-quality benefits at a reasonable cost. Many of our employees are eligible for a benefit package that includes
Medical and Prescription Drug Insurance
Tel-a-doc (talk to a doctor 24/7)
Dental Insurance
Vision Insurance
Life Insurance
Long Term and Short Term Disability Insurance
Accident Insurance
Cancer Insurance
Employee Assistance Program
Employee and Family Discount
As a value-price retailer our merchandise is affordably priced. Add an employee discount to that and you have huge savings! We even offer loyalty points through our Mstyle Rewards Program for additional savings on future purchases.
Internal Promotions
We want our employees to grow with us! Melrose offers ongoing training and development to ensure our employees are successful and always learning. What better place to develop your talent and thrust your career into winner status than Melrose!
Retirement Planning
We want to know our employees will be taken care of during their retirement. We offer a generous 401(k) matching program.
Refer-A-Friend Program
Our best new talent comes from employee referrals. Recommending a friend for a job is not only easy, it money in your pocket. . When employees recommend a friend for a job they may qualify for a generous bonus.
Paid Time Off
With PTO banking, you accumulate time off hours and you determine how you will use it – for leisure time, illness, and attendance of school activities, appointments, personal business or emergencies.