With nostalgia as the key theme for fashion; this week we take it back to a pivotal era of world history that pushed the Civil Rights Movement, rose rebellion to the Vietnam War, ignited the second wave of the feminist movement, highlighted the Watergate scandal, and brought awareness to environmental issues. Light up your earthy incense, plug in your lava lamps, brush your long feathery hair, slide off your platform shoes and sink into your plush papasan chairs for a trip to the 1970s.
---
Popular Fashion Staples
Fashion in the 70s was an era varying from the glitz and glam of disco fashion to the values of peace and love in the hippie movement. At the same time as these more well-known popular topics dominated the mainstream 70s pop culture, hip-hop music and its fashion began in the Bronx where disco and hippie fashion staples met to create a hybrid of the two.
In general, tops were of knit material, blouses tended to have bell or balloon sleeves, pants had the iconic flare or bell bottom accent to them and shoes had a platform trend. Garment materials were either natural fibers such as cotton and linen, silk, satin, or denim. Popular prints consisted of floral, monochrome, and tie-dye with some inspiration from India.
---
Floral Crop
This floral crop feature is a modern inspiration of Michael Ochs's 1972 photograph of Emmy and Golden Globe nominated actress Pam Grier. Her look channels the hip-hop style with block party outfit for the ages.
The My Melrose style takes on the floral pattern with a more romantic approach using ruffled sleeves and a cinched front tie. We pair this top with classic flare jeans and a pair of espadrilles. To accessorize this look, try an all gold approach like Grier along with clean makeup.
The more modern elements to the My Melrose look features distressed knees and frayed ends on the jeans. More typical 70s jeans and pants had a cleaner finish with no holes and solid hemming at the feet. The color of jeans tended to have a medium wash rather than a light one. The example pictured encorporates a floral pattern, which was fairly common in printed tops. The belt color, espadrilles, and bracelet on the right wrist, are a means to bring the look that earthy 70s hippie vibe. Natural tones were common within hippie outfits.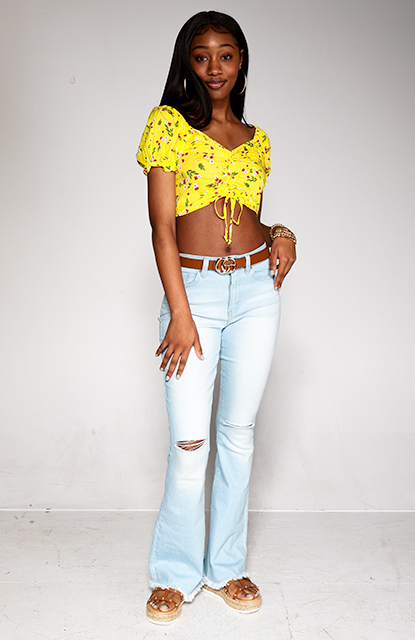 Striped Top
The striped top is a cool and casual look that would be in the closet of late Runaways drummer Sandy West. She rocked a more California surfer in comparison to her bandmates Joan Jett, Cherie Curry, and Lita Ford. West had similar hair to late American actress Farrah Fawcett.
My Melrose recommends flare jeans with this top with platform sneakers. Another take on this look pictured in our example are some sandals.
Our choice for the striped top has more of a waved edge versus that in West's picture. Her top is more basic with wider stripes than our thin lined version. The flare jeans, again are distressed at the knee and frayed at the feet.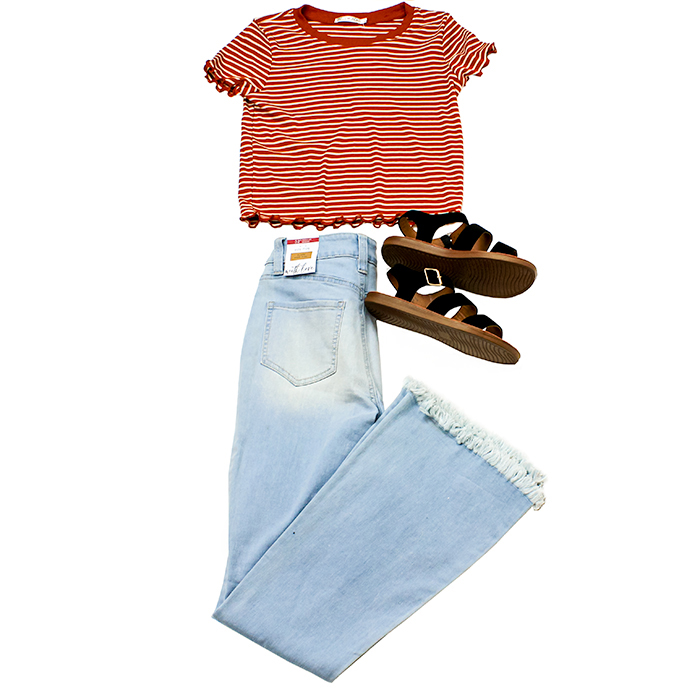 Silk Gown
For the disco queens, we turn to the classiest glamour look inspired by the late Diana Ross; a silk gown. The modern version has a slip style that features spaghetti straps and shorter length. Pair your glossy silk with some rhinestone platform heels that will outshine the club's disco ball. Don't forget to add a pop of color to your makeup routine; especially big eyelashes. For the colder months, a faux fur/fur coat is a perfect finishing touch to add some showgirl glamour.
The My Melrose version of the silk dress was not terribly uncommon in the 70s. Maybe the slip idea wasn't the popular choice, think more of a v-neck or deep plunge for the neck line.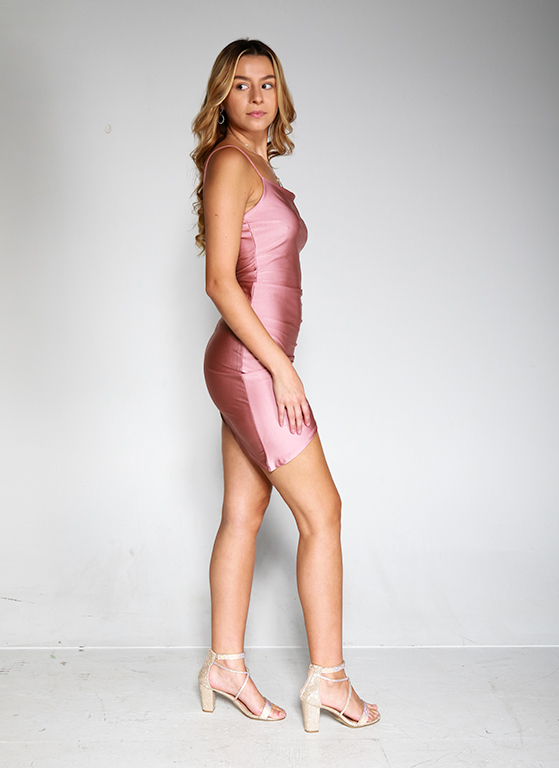 One Shoulder Top
One way or another, the one shoulder top is a piece that remains a popular choice in the modern club scene. In the 70s, the woman rocking the one shoulder top best was Blondie lead singer Debbie Harry.
My Melrose recommends trying a high rise denim jean. If your top is sequin, try mixing it up with shorts and an electric set of tights to channel Harry's look. Chunky platform heels, a messy fringe haircut and bright makeup is a statement combination to compliment a one shoulder top.
In the My Melrose example, our twist is having a cut out one shoulder top. Harry more than likely wore this top with hot pants, jeans from the 70s, or incorporated bright tights with chunky platofrm go-go boots. Our verson features a cropped mom jean with espadrilles versus Harry's version.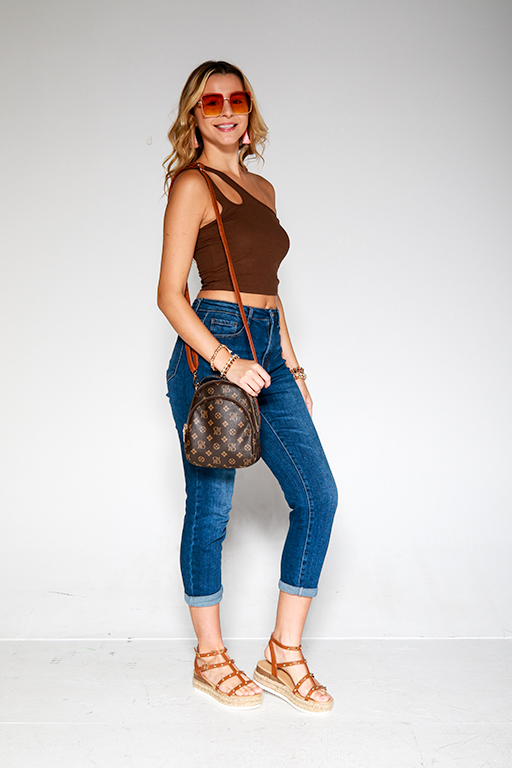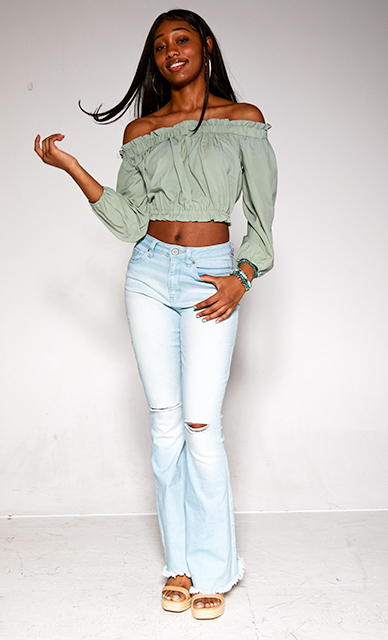 The peasant top is a cute sort of modernized hippie piece that is part of the bohemian fashion subculture today. Peasant tops have a romantic and soft aesthetic. These tops pair well with long, maximalist printed maxi skirts and a pair of flat strapped sandals. Accessorize with layered round beaded bracelets, necklaces, and a woven bag.