This week at My Melrose, we have the beginning of a series featuring fall fashion trends. For the first blog post on this season's look, we feature four outfits of different varieties. Among the four outfit choices, we have preppy fashion, a cottagecore outfit, and high fashion looks featuring maximalist prints and an all leather look.
In the realm of preppy fashion, My Melrose focuses on the classic sweater vest. Our preppy looks have a feminie energy and posh look to each of them. Featured on the sweater vest are a variety of prints and a solid colored option.
Our first image features the "No Comment" Sleeveless V-Neck Striped Sweater Vest ($12.99) in the color combination of brown, pink, and white stripes (stripes are a staple to preppy fashion), with the "Ambiance" Crew Neck Solid Short Sleeve Tee ($4.99) layered underneath tucked into the "Love Tree" 15" Stretch Suede Skater Skirt ($16.99). The look finishes with the "Forever" 3" Stacked Triple Buckle Booties ($24.99). This look is perfect for the girly girl that radiates a dainty, ultra feminine energy. To change up this look, replace the skirt with a pair of light wash straight leg jeans. If you're not a fan of heels, try swapping out the booties for a comfortable pair of loafers.
The second look is for the tomboy that's ready to go out and find a two-stepping partner. This look features the "No Comment" Sleeveless Texture Stitch Collared Sweater Vest ($14.99) in green with the "Ambiance" V-Neck Short Sleeve Tee ($4.99) in white tucked into the "Sweet Look" Light Wash Bootcut Denim Jeans ($21.99). Finish this look with the "Top" 1" Stack Pleather Duo Strap Buckle Booties ($19.99). If you love the solid colored sweater vest, but need a more feminine spin, swap out the denim jeans for a plaid knife pleated skirt. To complete this swapped look, go for a pair of vintage inspired oxfords.
Our final look in the My Melrose preppy fashion edit features a vintage inspired look using the "FCT" Short Sleeve One-Piece Vest and Collar Top ($14.99), the "Hayley" Light 10" Skinny Denim Jeans ($16.99), and the "Forever" Link 1" Quilted Riding Boots ($29.99). Mix this look up with an a-line skirt and a pair of Chelsea boots.
If you're a gal that likes darker color hues with your preppy inspired fashion, check out our recommendations in the realm of dark academia.
Cottagecore fans rejoice, as we finally have a look that features a large piece of the fashion subculture. We feature the "Papermoon" Cottagecore Floral Ruffle Short Sleeve Dress ($21.99) layered under the "Wax" Medium Stone Wash Denim Jacket ($24.99) for a western inspired take. The look finishes with the Faux Leather "Top Guy" 3" Stacked Tassel Zipper Booties. Create a more danity look by changing out the denim jacket for a more fitted knit cardigan and satin mules.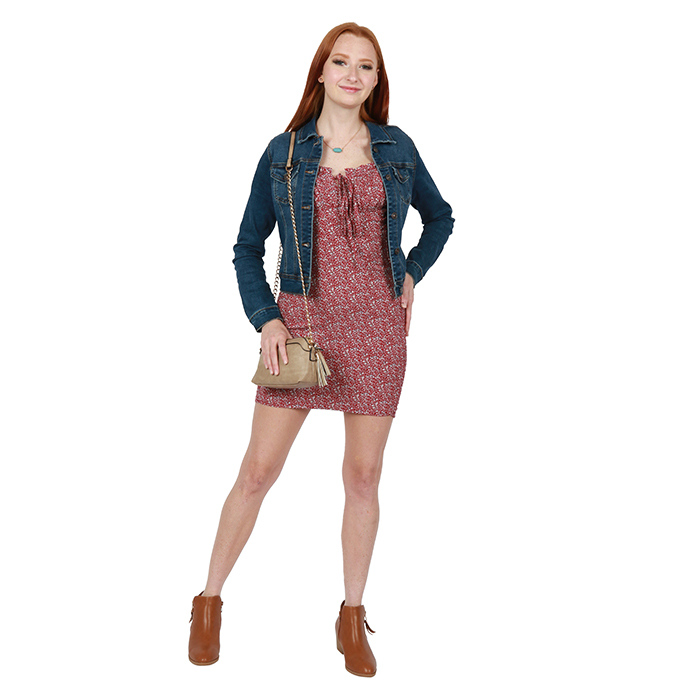 ---
Maximalist prints focus on mixed prints, animal print, or something monochromatic. Be bold in your maximalist print choices to catch attention and turn heads.
The first look we have features a mixed print. Wear the "Jasmine" Sleeveless Fringe Printed Graphic Tassel Bodysuit ($16.99) tucked into the "Love Tree" 5" 2-Button Pleather Shorts ($16.99) and the "Top" 4 1/2" 2-Buckle Crisscross Platform Heels. When the weather is a little cooler, switch out the short for either pleather leggings or ponte pants. Wear this outfit on a night out for a statement or choose the next outfit for that very purpose.
Be runway or club ready with the "Ambiance" Long Sleeve Mesh Printed Top ($7.99), the "Fashion Mag" 37" Chain Belt Hi-Lo Skort ($21.99), and the "Top" 3 1/2" Thick Heels ($19.99). If you find yourself feeling a little cold, add a long train red blazer.
The final installment of this fall trends post ends with the boldest high fashion inspired look serving Catwoman vibes; leather on leather (pleather for us). My Melrose features the "Chocolate" Pleather Spaghetti Strap Tube Top ($12.99), "Chocolate" 10" Pleather Pants ($19.99), and the "Forever" 2" Lug Faux Leather Studded Booties ($26.99). When the weather is cooler, add a pleather trench coat and swap the pleather booties for over the knee boots.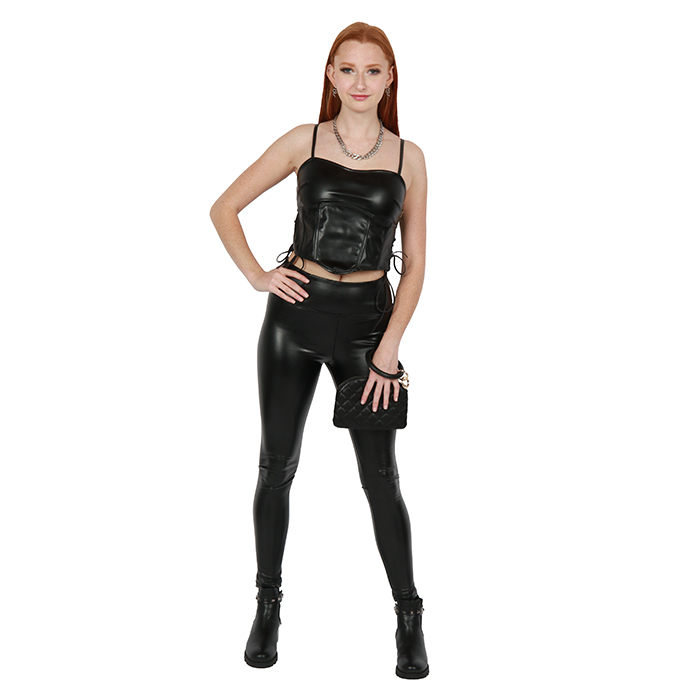 ---
Good to be back writing fashion for you guys, I certainly missed you. I hope these looks serve you well in finding cool trends to try on a budget. We have more fall looks being photographed today and I'm so excited to share them with all of you. Upcoming styles feature more layered looks, boots, booties, and various denim jeans. What are you guys wearing this season? We'd love to check out what's hot in our community. Share your looks with some My Melorse garments on our social media and show off your personal style.