Among youth culture, particularly younger millennials and older Gen Z, a fun and trendy topic of conversation is one's astrological or zodiac sign. Whether or not you believe in astrology, there are some excellent ways to distinguish yourself with inspiration from your zodiac sign. If you're already immersed in astrology or want to delve into it for fun, Co–Star is a beautiful app to get daily horoscopes and charts from. We at My Melrose find astrology fun and exciting, so we wanted to find a way to integrate it into our content. So this week, we bring you part one of shoes inspired by zodiac signs.
A Brief Explanation of Astrology and the Zodiacs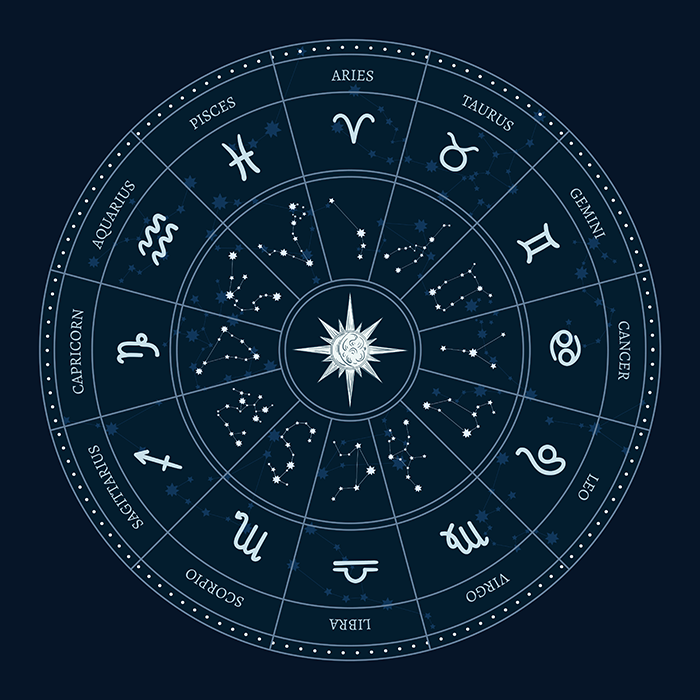 You can't explain astrology without astronomy. Up to the 1700s, astrology, and astronomy were classified as the same study. In a modern interpretation, astronomy is the study of the motion of stars, while astrology is the study of the effects of the stars. The idea of astrology is meant to place our existence into the context of the universe. Astronomy tells us the sun's and planets' motion, which rotate in a circle. The zodiacs are constellations at our solar system's same latitude or grid line.
So how do the zodiacs play into the universe and our lives? The tool to explain this is the natal (birth) chart. The natal chart is a map of the universe at the exact time and place we were born. This describes where the sun, moon, and planets were at your birth. The combination of these things defines the zodiacs with their specific meanings.
When you're asked about your zodiac sign, you're telling someone your sun sign, the one you are most familiar with. This information also has to do with the day you were born; learn yours here. Once you've done that, take a look at the shoes we've curated based on your sign. This week we feature Aquarius, Pisces, Aries, Taurus, Gemini, and Cancer.
---
Aquarius - Experimental with Bold Colors and Prints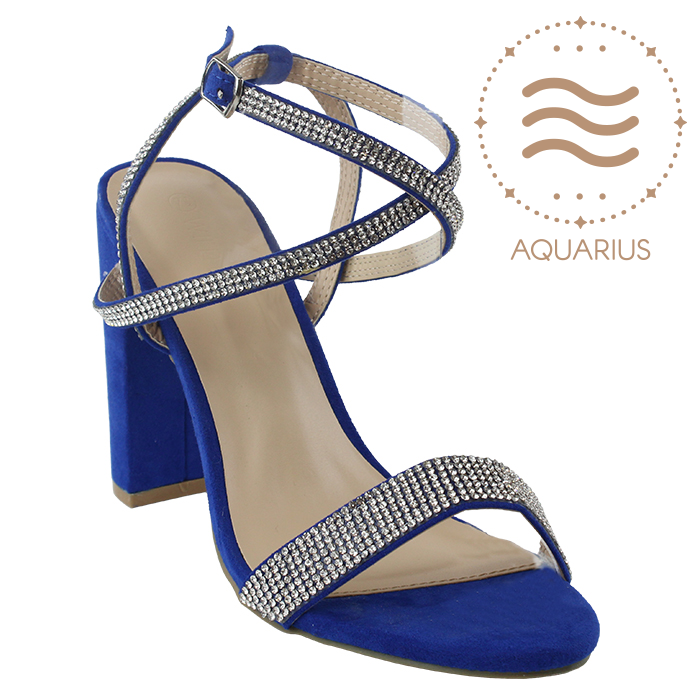 Aquarius (January 20 – February 17 (2023)), the water bearer, is an air sign with Uranus as their ruling planet (this author is a fellow Aquarian born on February 13). The Aquarius people are defined to be outcasts that aren't loners; the alienation is usually by choice. Intelligence is critical; they live in their own space, opposing the current world. They're utopians, rational, and aren't too big on being sensitive. Being normal is boring, and they value personal freedom over all else.
In the Aquarian universe, freedom equates to being a little wild. Here, we curated something more creative for the Aquarians while paying homage to their water bearer sign. The "Wild" 4" Suede Rhinestone X-Strap Heels in cobalt blue are unique and potentially unusual and provide a creative challenge for styling. Be boldly innovative with these heels by creating an outfit that mixes the cobalt heels with magenta. For example, try a blazer or even a jumpsuit. Another idea is to wear a maximalist print dress and add some silver jewelry.
---
Pisces - Free Spirited with Eccentric Taste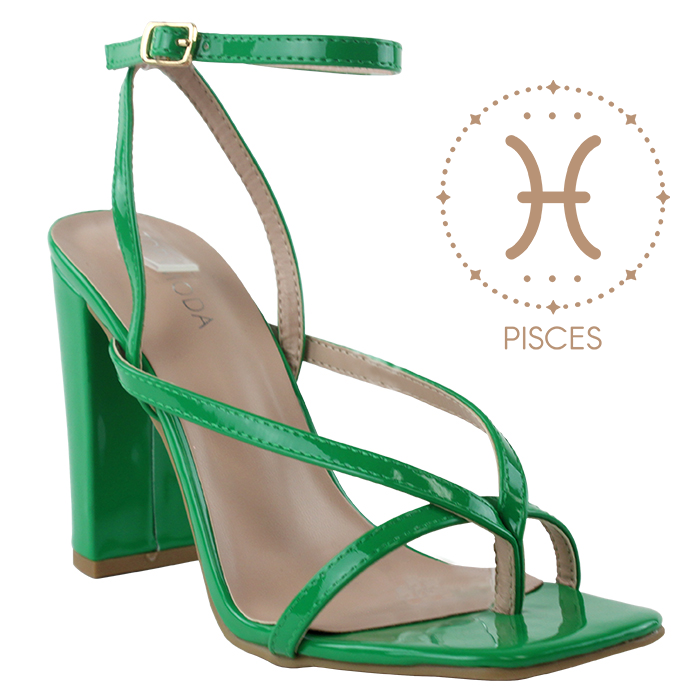 Pisces (February 18 – March 19 (2023)) is a water sign symbolizing two fishes and their ruling planet Neptune. They're described as emotional, imaginative, and intuitive. Pisces and Aquarius can relate to not wanting to be distinct. The difference between the two is Aquarians constantly fight themselves when it comes to enjoying a community but, on the flip side, want complete detachment (hence their draw to idealism and freedom). In contrast, Pisces, for lack of better phrasing, want to "fit in," yet they might cause their demise by having a desire for feeling on a deeper level of emotion and wanting to live life fantastically.
The free-spirited Pisces might enjoy the more romantic style with flowing silhouettes. With their dreaminess trait in mind, our thoughts came to spiritual themes, a mix of bohemian and cottagecore. First, however, we're elevating the typical Pisces style by introducing Kelly green "Top" 4" Patent Thong Strappy Ankle Strap Heels. Keeping true to the romantic flowy idea, wear our heels with something simple, like a blouse with a short ruffled sleeve and a pair of wide-leg linen pants. The outfit's color scheme could be more earth-toned, and your shoes are the most eye-catching part of your look without being too over-the-top.
---
Aries - Powerful, Cool and Creative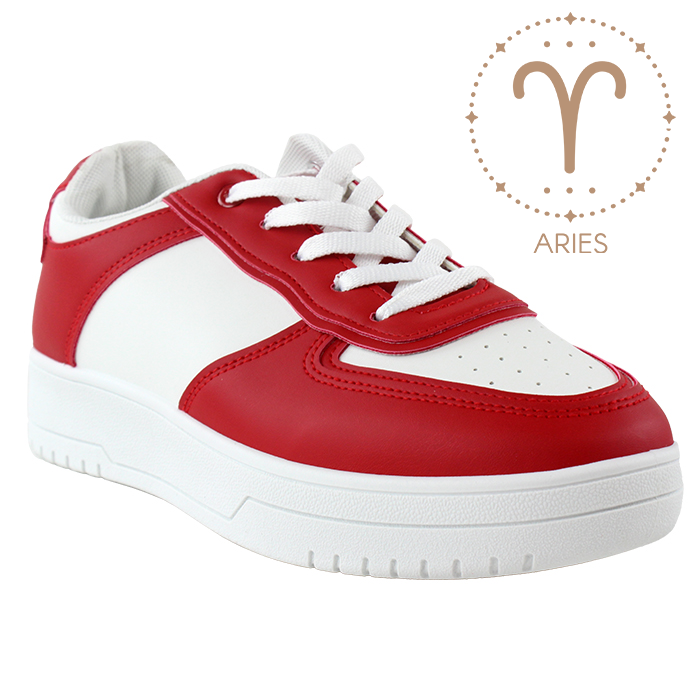 Aries the Ram (March 20 – April 19 (2023)) is a fire sign, with their ruling planet being Mars. This zodiac is known for being unafraid of conflict, competitive and honest. Aries are energetic, natural-born leaders with a different sense of self-awareness and strong opinions they aren't afraid to express. You're courageous, confident, and determined. The downside of this sign is their struggle with being hotheaded and reacting more through emotion rather than with a level head.
With your prowess, Aries can quickly jump from sharp business professional attire to cool street fashion. But, you like sleek looks that might not shy away from more basic silhouettes. For Aries, we chose our "Legend" Solid Pleather Lace Up Sneakers in red and white to highlight your active and energetic lifestyle. Wear a simple t-shirt dress or a bodysuit in a tight pair of skinny jeans with these shoes.
---
Taurus - High Quality and Not Afraid to Make a Statement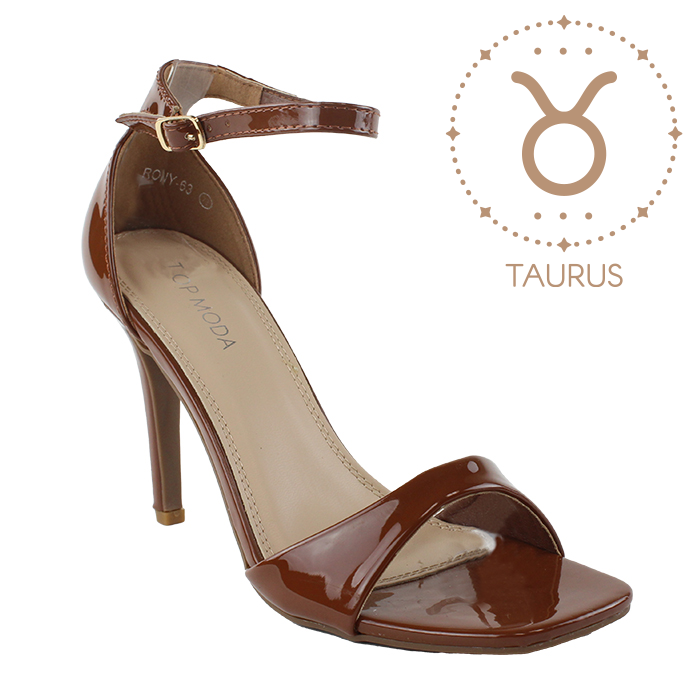 Earth sign and bull, Taurus (April 20 – May 20 (2023)), are deemed to be pretty chill and content with how things are. They are people of stability, logic, patience, and tranquility. Another way to describe them is the idea of being intentionally routine and like when things are more predictable. Aries and Taurus are sort of two sides of the same coin. These signs are stubborn in their ways; naturally, they show it differently. Both zodiacs have their form of stubbornness; naturally, they show it differently. However, they also share the same level of diligence and determination in their work.
Taurus fashionistas lean on the side of worldly success and enjoy high-quality items. While they are unafraid to make a statement, they like pieces with form, function, and comfort, all while being fashion-forward (they might want to wear the same clothes for a week straight if they love it that much). For the Taurus crowd, we picked the camel-colored "Top Guy" 3" Stiletto Ankle Strap Heels. These heels are ones a Taurus could be caught in multiple times a week with various casual outfits, work-related outfits, or for going out. Pair these heels with a maximalist skirt suit, a short jacket, and a wide-leg jeans combo, or with bold-colored bottoms like orange trousers.
---
Gemini - Fashionably Risky and Loves Variety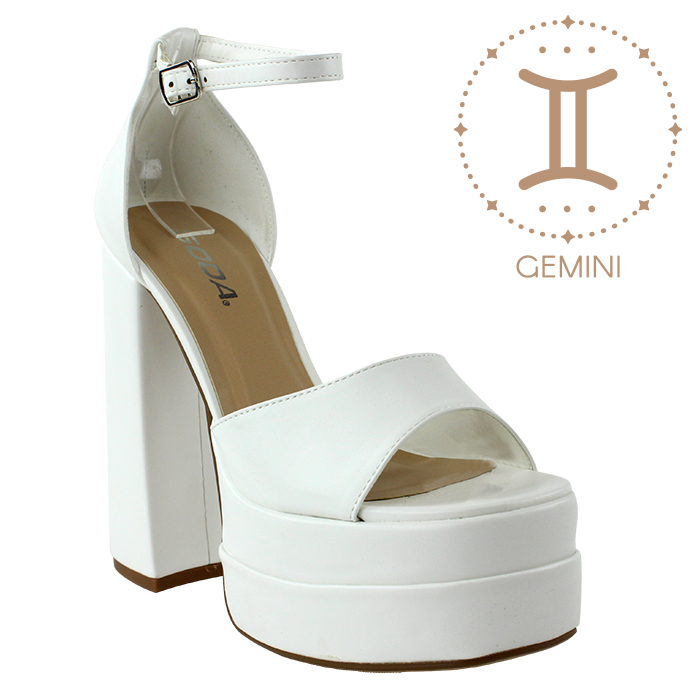 Gemini (May 21 – June 20 (2023)), the symbol of the twin and air sign ruled by Mercury, tends to be intelligent, wise, and funny. They're excellent communicators yet sensitive listeners that only scratch the surface of their versatile nature, the other side being a mix of an extrovert and an introvert. Geminis tend to fear being alone and have a large group of friends and worry about how they convey their emotions to others; they sometimes externalize their insecurities. They're always looking for something new; however, at some point, they have to look at the world they're currently living in and see if it's what they want instead of constantly seeking change.
With seeking change in mind, Geminis don't typically like wearing the same thing twice, opposing their Taurus counterparts. But, similar to their Aquarian friends, the Gemini crowd enjoys turning heads and experimenting. So Gemini might experiment with trends that play with proportion and silhouettes. We've curated our white "Soda" 5 ½" Double Platform Ankle Strap Open Toe Heel for this. Heels this unique can be a bonus challenge to playing with proportions. Additionally, Gemini could find a pair of fitted dressy capris with a cropped blouse with oversized sleeves like the batwing, flutter, balloon, or bell sleeves.
---
Cancer - Humbly Sophisticated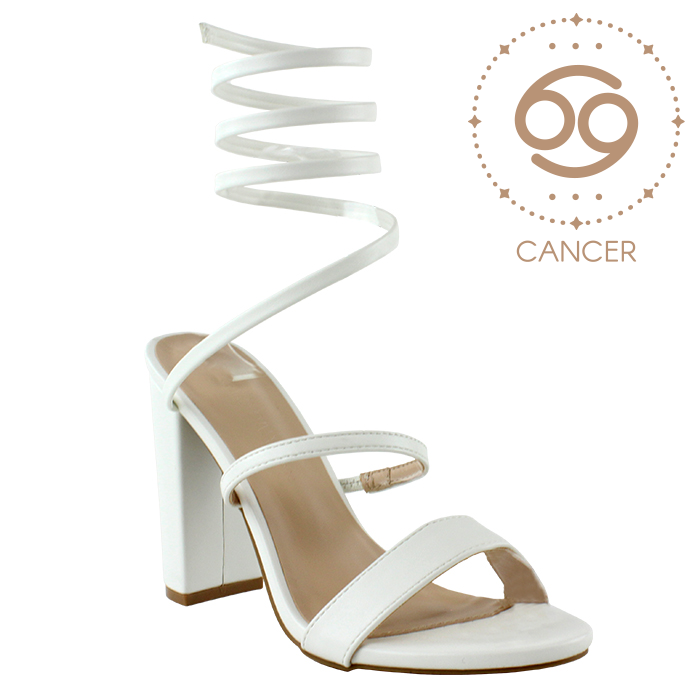 The final zodiac sign we'll get into this week is Cancer (June 21 – July 21 (2023)), the crab, and a water sign. Cancers tend to be warm, sensitive, and deeply emotional; they feel everything and yet have trouble sharing their pain with others due to the fear of them using the Cancer's weaknesses against them. They like stability, have a routine, and don't like change, similar to their Taurus counterparts. However, compared to their Taurus friends, the flip side is that Cancers feel more comfortable being in charge while Taurus goes with the flow.
Cancer fashionistas lean more toward a classic look due to their imaginative interests derived from traditions and the past. Their look is bound to be timeless, elevated, and elegant. For them, we chose the gorgeous "Legend" 4" Pleather Snake-Up Spiral Ankle Strap Heels that showcase their refined taste. Think of more traditional pieces of clothing to pair with these, like swing dresses, portrait necklines, and paneled or pleated skirts.