Refer back to a small piece of our post on trending fashion colors for spring/summer 2023, where we discuss Pantone's color of the year, Viva Magenta 18-1750, and the mantra behind it; the encouragement of exploration and self-expression. While this pushes for bold colors and prints, a range of neutral earth-tone colors are creeping to the forefront of fashion this spring – think of a variety of browns, greys, greens, beige, etc. This week, My Melrose talks about earth-tone colors; what colors go with these varieties, and how to create outfits inspired by natural colors we see every time we go outside.
What are Earth-Tone Colors?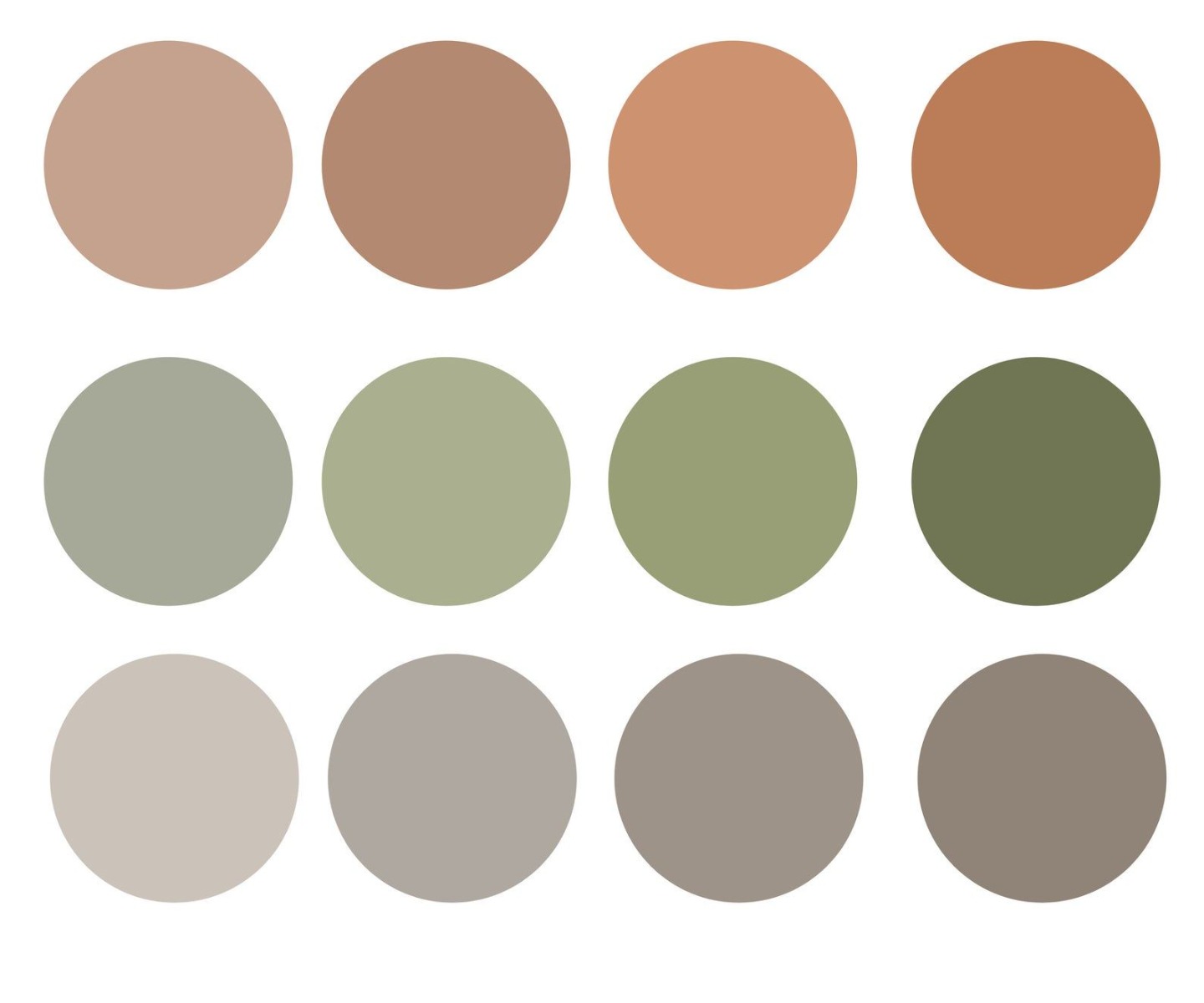 Go outside and look around at nature; what do you see? First, look down at the ground below under your feet; are you standing on brown soil, sand, grey rocks, or some plush green grass you can easily place your bare feet in, embracing the coolness of the ground? Next, look in front of you at the tree bark, a different shade of brown. To top off the tree, observe the varieties of green in the leaves that provide shade to the earth below. Lastly, look up above the sky; it could be a clear, cloudless blue with a bright flaming shining sun or filled with a mix of grey clouds prompting a potential storm.
Variations of these colors include rust, marigold, navy, burnt sienna, sage, turmeric, and so much more. In addition, warm neutrals and rich, dark colors such as chocolate brown, brick red, and dark jade are in, and they pair well with the mix of pink, rose, and various pastels; ironically are perfect spring colors. When thinking about earth-tone outfits, boho-chic often appears as a subculture style. But, of course, there are various ways to style earth-tone colors. Take a look at our four outfits below and their nature-derived inspiration.
---
Take time to decompress in the ambiance of nature by lying in the lively green grass among the flowers. Inhale the scent of their tranquil aroma as the breeze of a perfect atmosphere, and the chirping of the birds nearby lull you into a daze in the middle of the day. Your look should complement this moment and help you blend into your surroundings. Pick out our "Global Gold" Dual Floral Pattern ¾ Sleeve Kimono and layer it over our moss-colored "Love Tree" Wide Leg Spaghetti Strap Jumpsuit finished with our white "Comfort" Platform Lug Sole Synthetic Slide Sandals.
This look is boho-chic inspired. The floral kimono and the jumpsuit's relaxed fit pay homage to classic hippie fashion in color, pattern, and silhouette. Our choice of sandals and the pink saddle bag is arguably the elements that create a more chic detail to this look instead of flat sandals and a cloth tote bag.
---
With Roots Above and Branches Below
Kind of like a reverse tree (shout out to The Devil Wears Prada for the most remarkable album title ever, With Roots Above and Branches Below), you curated a look that pays homage to the trees. Your top features our "Love Tree" Short Sleeve Sweetheart Cinch Front Crop Top paired with our fantastic dark green "VIP" One Button Straight Leg Contrast Stich Cargo Pants. This outfit deviates from more basic solid patterns in the shoes, which feature our designer dupe "Kedi" Pleather Printed Sneakers.
The essential pieces, such as the crop top and cargo pants, create a more urban streetwear vibe. We elevate this by adding the designer dupe sneakers and the more feminine handbag as an accessory. Take this outfit out on a casual day out that has you strutting down the street, catching glances from on-looking passersby.
---
There's nothing better than a decedent glass of iced coffee swirling with the perfect creamy flavor that swims around when it's first poured into the espresso blend. Upon close observation, you see variations of brown like saddle and sienna and a little light grey as the cream dissolves into the beverage before you. This process inspires your complete look that showcases our "Ambiance" 38" Sleeveless Crew Neck Keyhole Midi Ruched Dress paired with our "Forever" Comfort X-Strap Flat Sandals.
As the anecdote illustrates for this look, take this to your local coffee shop for a daytime chill session or when you have a project to work on and want to do it in a different environment. This is perfect for staying comfortable and looking cute doing it.
---
Savory as the Shiitake Mushroom
This monotone earth-tone color scheme reminded us of the ombre blend of the healthy and delicious shiitake mushroom. Our outfit is fitted to your figure on top with our khaki "Love Tree" Long Sleeve Poplin Ruched Front Crop Top and loosens up in the trousers with our off-white "VIP" Drawstring Cargo Jogger Pants. Continue the light tip finish with our white "Forever" Comfort X-Strap Flat Sandals.
The final look in this earth-tone collection is when the safari meets a posh city girl. This more monotone color scheme gives off explorer vibes, and yet you could see it on your extra tan sunshine Cali girl. She's trendy yet super chill all at once.