When the average person thinks about Mother's Day, we picture a biological mom that brought us into the world; but that's not exactly everyone's reality. Think about specific circumstances; relatives or non-blood families might adopt some; some of us may have never had a mother due to a passing or an estranged relationship. What we do have in our lives are women who raised us. These women could be our grandmas, aunts, sisters, or family that chose us; a more accurate outlook and mantra to follow regarding family is that family is what we make it. This Mother's Day, honor your mom or the female role models who were there to act as a mother for you. My Melrose and Melrose Family Fashions take this time to celebrate these fantastic women by showing outfits that highlight female grace and beauty.
The "Love Tree" 58" Tiered Tube Top Dress with Ruffled Edges is a beautiful long dress that gives a sense of serenity and peace as you take a heartfelt, barefoot walk on the beach together. This dress is best worn during warmer months while enjoying a relaxed setting. If you're an adult, enjoy a meal outside at a restaurant patio, sharing laughs while drinking early afternoon mimosas. Pair this dress with heels, espadrille wedges, or, if you're exceptionally tall, flat sandals in the white or nude color palette, depending on which dress you love most. Accessorize this with a bold or simple necklace and earrings to match. If you need more glam, add a bracelet as well.
---
She is beauty, grace, and the one who helped cultivate you into the wonderful person you are. To show her nurturing personality, have her wear our "Love Tree: 56" Floral Print Asymmetrical Dress. Feminity doesn't mean meek or weak; your role model is robust yet understands the importance of being a good example to you and showing you what priorities to uphold in life. She's your biggest, loudest cheerleader and the most fabulous while doing it. Wear this dress with nude heels to keep an earth-toned theme to the outfit, and accessorize it with a gold necklace.
---
With her strong sense of self-assurance and ability to diffuse your anxieties, she embodies our mellow yellow dress choice. Highlight her laid-back and tranquil vibe by having her wear our "Love Tree" 36" Spaghetti Strap Tiered Ruffled Dress. This role model might be more introverted; she loves to sit in her reading nook by the window and get lost in the fictional world she can't escape. However, her contributions to your growth involve much patience and flexibility regarding what you want to try, like different sports or an excellent craft you found online. Education and personal freedom are the foundations of her beliefs, and she never pushes you to do something you're not interested in and somehow always knows when to encourage you at the right time.
---
Crochet Bouquet with Ruffles for Days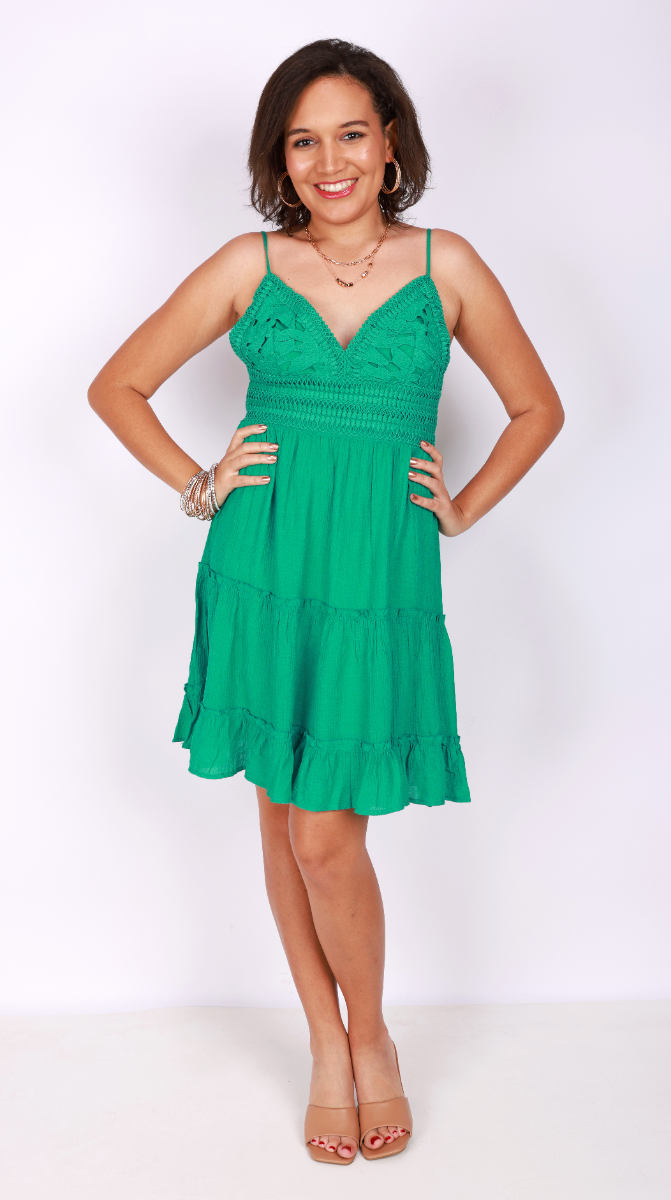 There's nothing more telling than a woman in our vivid green apple "Love Tree" 38" Spaghetti Strap V-Neck Crochet Ruffle Dress. Our piece shows a sense of liveness in color and continues in the crochet bouquet at the top of the dress. This female role model is free-spirited and never shies away from adventure. She's not the type to sit around all day; she'll take you on a hike, a walk, or check out an excellent new spot to experience together. Your sense of wonder and imagination is inspired by her love for life's experiences and the belief that you only live once, so do the things you've always wanted to.
---
Ladylike and polite with a bit of spice, your female inspiration wears this simple "Love Tree" 52" Off-the-Shoulder Dual Slit Ruffle Top Dress. She prefers to carry herself in a reserved manner, but when the going gets tough, she breaks out of that character and into a fierce woman you don't want to mess with. Her mantra is to pick your battles, be kind to others and love yourself first. Your gleaming personality inspired by her has helped you in various social situations by making valuable friends, staying out of trouble, and having a good judge of character.