Any leading man or leading lady could be called a movie star, but among those already rare individuals whose commanding physical presence and charisma commands the attention of an audience, few can truly be considered icons. Charlie Chaplin, James Dean, John Wayne, Bette Davis, Claudette Colbert, and Audrey Hepburn are among those rare stars whose legacies and likenesses have endured, cementing them as icons. One icon eclipses them all, her work and visage recognizable worldwide even a full 60 years after her tragic death: Marilyn Monroe. Monroe remains firmly lodged in the pop culture zeitgeist as the quintessential blonde bombshell—no small feat considering that she wasn't the first to fit that archetype (that title goes to Jean Harlow), how many of her contemporaries were also curvaceous, sultry blondes competing for film roles and the adoration of the public and how many emulated her long after her passing. She has had innumerable books written about her, songs written in her memory, movies made about her and her likeness and legacy has inspired art and various ephemera.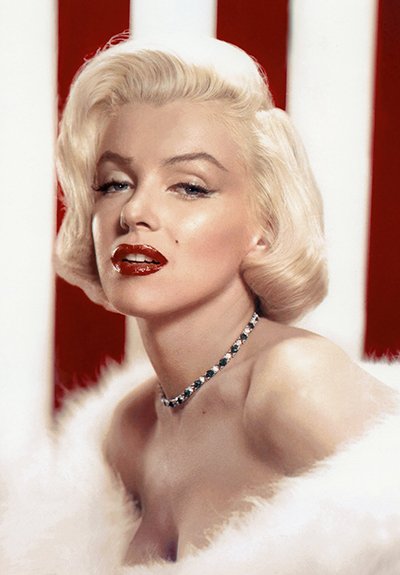 In order to commemorate Monroe's enduring status as an icon and the release of Andrew Dominik's semi-fictional biopic of Monroe entitled Blonde, we want to showcase how you can capture some of her style with affordable pieces from Melrose Family Fashion and My Melrose stores. While Monroe's glamorous gowns (see her lace gown from the premiere of How to Marry a Millionaire) and chic dresses (her hot pink ensemble captured in glorious Technicolor in the film Niagara is a great example) may be the first things that come to mind when thinking of the Some Like it Hot star, but her minimalist day-to-day wear was equally captivating. Taking inspiration from Monroe's off-screen garb, we managed to put together several modern interpretations of outfits that she was photographed in during her brief 36 year life. We proudly present...
4 Outfits Inspired by Marilyn Monroe's Off-Screen Style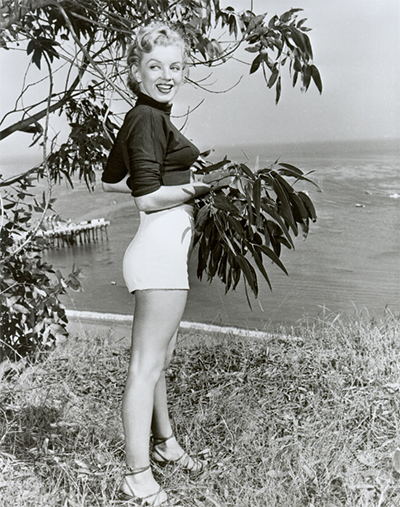 Our first outfit's inspiration comes from a 1951 photo of Monroe looking over her shoulder, depressing a tree branch to clear a view of the Pacific ocean. She's clad in a black turtleneck with the sleeve pushed up over her elbows, a very short pair of high waist shorts and strappy sandals with a modest stiletto heel. The high waist and cropped turtleneck make her legs appear much longer while her pushed up sleeves give her a casual playfulness. The stiletto heel sandals inject a bit of glamour into this otherwise simple outfit, further accentuating her legs and elevating the overall look.

As you will notice in a lot of these photos of Monroe, she didn't really accessorize. No earrings, necklaces, bangles, bracelets, can be found in any of the outfits that we used to inspire these looks. This is an opportunity for you to further elevate these looks however you desire!
The Melrose take on this updates the iconic blonde's fitted high waist shorts with paper bag style shorts ($16.99) that feature a cloth belt. The paper bag shorts provide a far more interesting silhouette with some volume that helps accentuate the hips and narrow the wearer's waist. The ribbed, cropped, mock turtleneck ($7.99) is very similar to Monroe's and the strappy, square toe sandals ($17.99) also closely emulate what Monroe is wearing in the photo. This is the perfect outfit for a casual date and would perfectly fit an evening picnic or a drive with the top down is also paired with sunglasses and a scarf.
---
This next outfit's inspiration comes from a 1962 photograph of Monroe as she gets ready to board a plane. In it, she wears a silk print blouse and ankle length trousers and caps off her look with a pair of white pumps. It's the kind of simple classy look that will never age nor fade away, existing somewhere outside of time. It's also kind of funny to think of a time where travel attire didn't consist of leggings and an oversized sweatshirt to maximize comfort when crammed into a snug airplane seat. The ability to wear such attire comfortably while traveling is it's own luxury, though thankfully, this isn't a "for the airplane only" kind of look...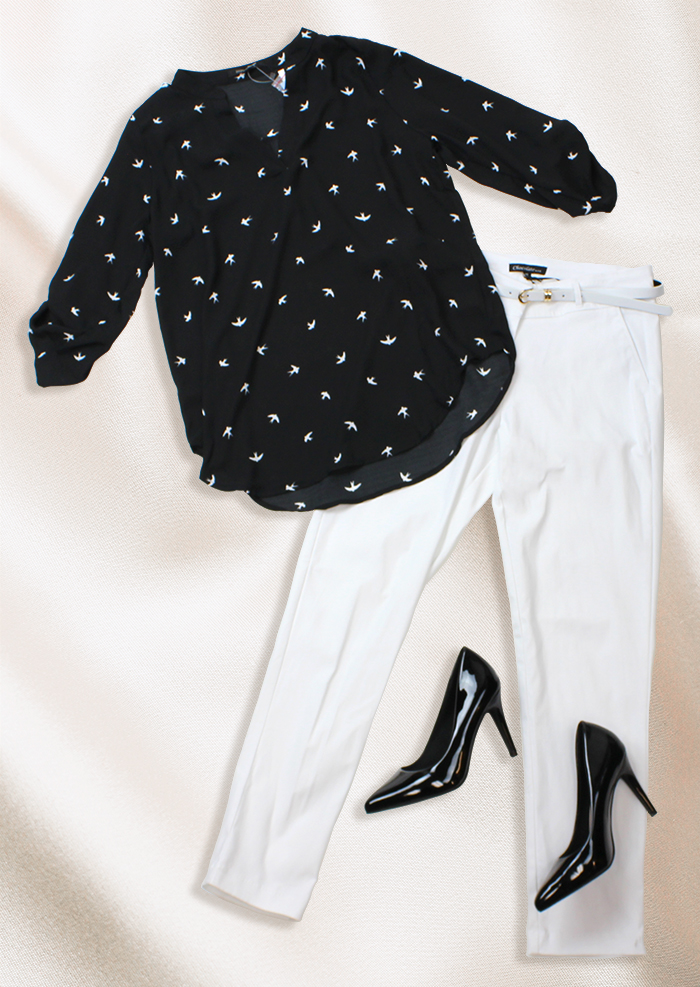 Our updated take on Monroe's classy traveling attire calls for a Papermoon printed blouse ($16.99) that isn't a button up but does feature a slit in the neckline. Our pattern of choice for this look features birds, a slight nod to Monroe's jet-setting while donning such a look. Our selection of Chocolate ankle-length ponte pants ($21.99) are also white and come with an accent belt. Instead of white pumps, we opted for black pumps ($19.99) to balance the colors of our interpretation better. Cap off this look with your sunglasses of choice and your favorite handbag!
---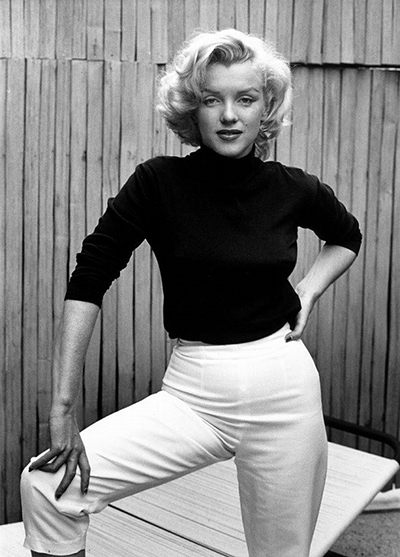 Our next outfit is inspired by an outfit captured in a series of photographs in 1953 by famed photographer Alfred Eisenstaedt. The photos she wears a black turtleneck and white capri pants. Again her sleeves are pushed up and she is devoid of accessories-not even wearing shoes. This "under dressed" look showcases both a candor and a casualness that we don't usually think of when it comes to movie stars. The artifice is gone and no pretense of glamour or excess can be found. The photos show her around her home, posing on a lounge chair, curled up with a book, writing on a note pad, stepping out of a car... The shoot at least pretends to give us a peek behind the curtain, though it's entirely possible that this is yet another stage and another performance.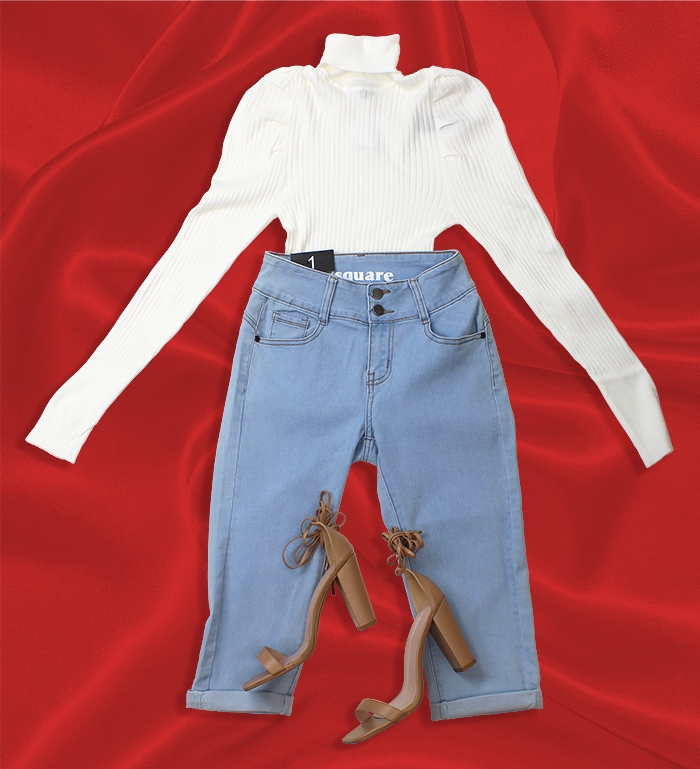 Melrose's riff on this stripped down look uses a ribbed turtleneck sweater ($14.99) and, in order to mix things up from the first look we presented, we've opted for white instead of black. Similarly, we have opted for two button light wash denim capris ($14.99) instead of white. If you don't have the luxury of padding around the house bare foot and must go out, we recommend these Top Moda camel color 4" heels ($19.99). You can accessorize if you wish, the simplicity of this outfit means that your options are wide open! This plaid handbag with a matching wallet is a great accessory to start with...
---
Before she became Marilyn Monroe, she was Norma Jean Baker and worked in a munitions factory during World War II. This beginning seems so far away from the how the world remembers her today, but I thought it was worth cheating a bit in order to pay homage to Monroe's place among the more than 6 million women who contributed to the war effort by working in factories and use her wardrobe from the 1961 film The Misfits as inspiration for the final outfit in our series of looks. In contrast to some of her more iconic looks on the big screen, she is dressed down in the Misfits; donning jeans and cowboy boots, capped off with a button up white blouse and denim jacket.
Being a company based in San Antonio Texas, denim and cowboy boots are something we are very familiar with! Kick things off with a pair of Soda embroidered cowboy boots ($34.99) then pair those with a pair of medium wash bootcut jeans ($16.99), a white button-up dual breast pocket blouse ($16.99) and cap it off with our Nicole Premium Jeans denim jacket ($16.99) for a pretty spot on homage to Monroe's costume in the 1961 film.
We hope this post has been inspiring and has excited to to explore more about Marilyn Monroe! If you are itching for more content about her, I highly recommend Karina Longworth's podcast You Must Remember This which has a 3 episode run about Monroe as part of their "Dead Blondes" series. If you want to check out Monroe's films my personal favorite is the previously mentioned Niagara which is a technicolor film noir where she plays a femme fatale who wants to part ways with her irritable older husband. Monroe's seductiveness is on full display in this film while in my other recommendation, Some Like it Hot, you can see her comic chops. Some Like it Hot is about two men who flee from mobsters and disguise themselves as women and join an all girl band. Let us know in the comments what you thought of the film Blonde, which of these outfits is your favorite or what your favorite Marilyn Monroe film is!