Following our post about the Pantone spring/summer 2023 colors, we have new apparel with many of the colors shown. This week, we have curated five fashion outfits to illustrate better ways to wear some of the upcoming season's colors. Our outfits featured below channel exploration and self-expression in creative ways using basic silhouettes and layering to drive more interest and inspiration in elevating essential pieces.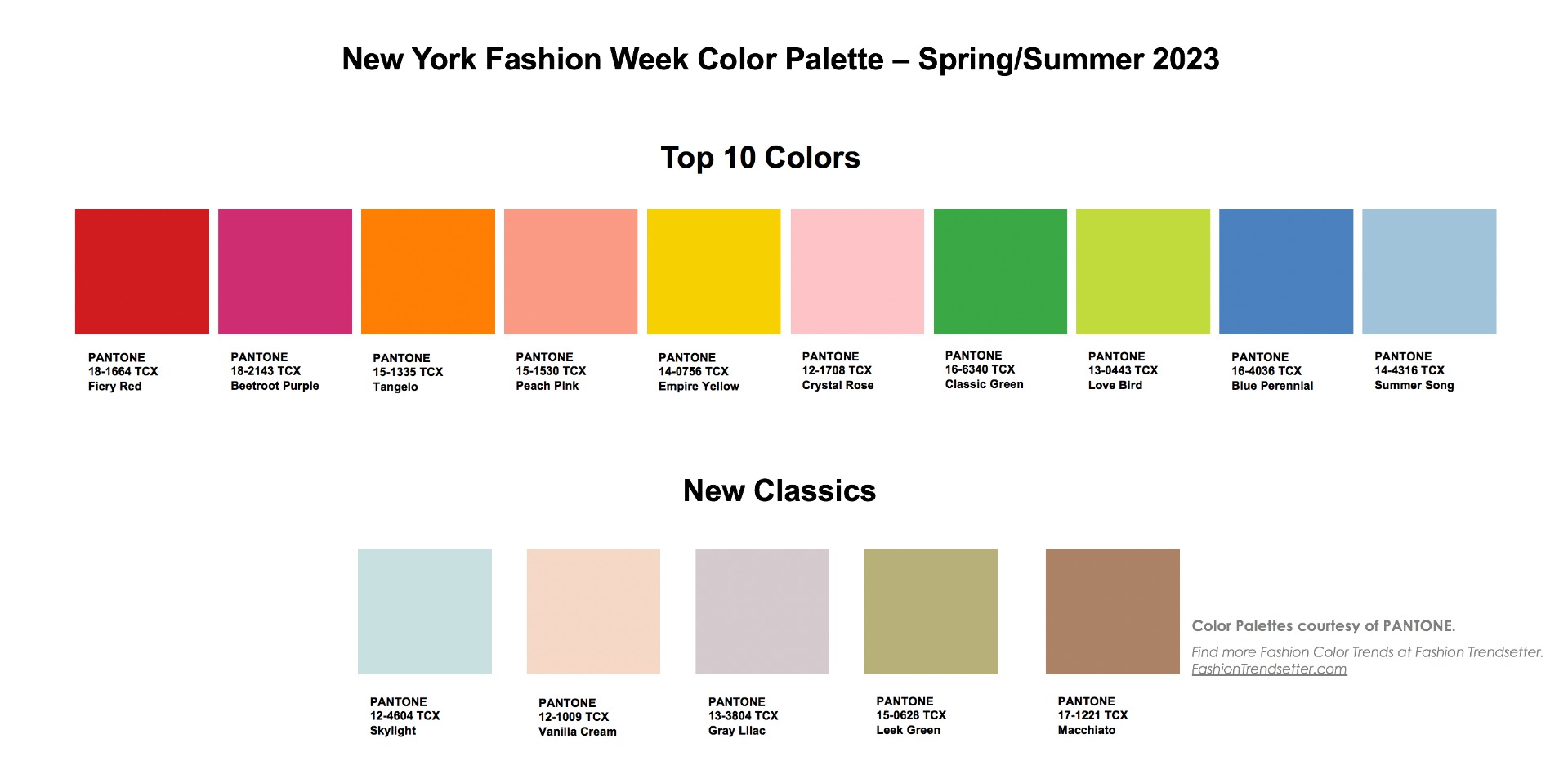 Spring 2023 trending colors by the Pantone Color Institute are lively, vibrant, and fruity. My Melrose followed their color trend forecast by creating an outfit inspired by a healthy rousing watermelon. The outfit above showcases our fuchsia "Top" 10" Chiffon Long Sleeve Ruched Crop Top, white "Chocolate" Solid Belted Skinny Ponte Pants, white "Top" 3 1/4" Closed Back Ankle Strap Open Toe Heels, and green "Deluxity" Small Chevron 'V' Crossbody Bag. This is meant to be a dressy look for different times of the day and various occasions.
This My Melrose look features Pantone's Beetroot Purple and Classic Green colors closely. While these colors match well together based on the Pantone spring/summer 2023, other palette combinations exist to explore. Beetroot Purple's most complimentary color is called Mountain Meadow. This contrast of color is the most effective way to draw attention to your fashion. For more color palettes to explore with Beetroot Purple, turn to color-name and look at their selections for maximum exploration. If you want to feature Classic Green, the best contrasting color to it is Cadmium Violet.
Suppose you're an adult taking this outfit out for an exciting night out. Enjoy your outfit's theme by drinking some watermelon moonshine. If your casual attire is more elevated to a higher sense of fashion, choose this look as your dressy casual attire.
---
When Barbie and Bratz Meet

When creating this look, the combination inspired colors the Barbie and Bratz brands would use. Barbie has many dolls of different skin tones, body types, and disabilities. Barbie Fashionistas is comparable to what My Melrose can and strives to create. The current Fashionistas line is colorful, floral, and simple in construction. Another line, Barbie EXTRA, is a more high-fashion design that aligns with spring and some Pantone colors. Bratz features the same four leading ladies, Cloe, Jade, Sasha, and Yasmin, with some friends of their own.
The My Melrose approach first made us picture Barbie with the blend of a version of Crystal Rose and Lavender. Crystal Rose aligns with Barbie, as her primary color is pink (though the hotter the pink, the better). With the vast array of Bratz side characters, we had to narrow it down to more commonly known ones. Our best analysis to give a comparison to would most likely suggest you see Phoebe in this look due to her style description listed in her fandom article. In general, the Bratz girl loves platform shoes.
Our look features the lavender "Love U" Long Sleeve Tropical Lined Double Flap Blazer layered over the bubble pink "Love Tree" Jersey Rib Tube Tank. We again use white "Chocolate" Solid Belted Skinny Ponte Pants, but we accompany this outfit with white "Soda" 5 1/2" Pleather Double Platform Closed Back Ankle Strap Heels. Wear this with your trendy fashionista girl squad for a power strut down to your favorite shopping spot.
---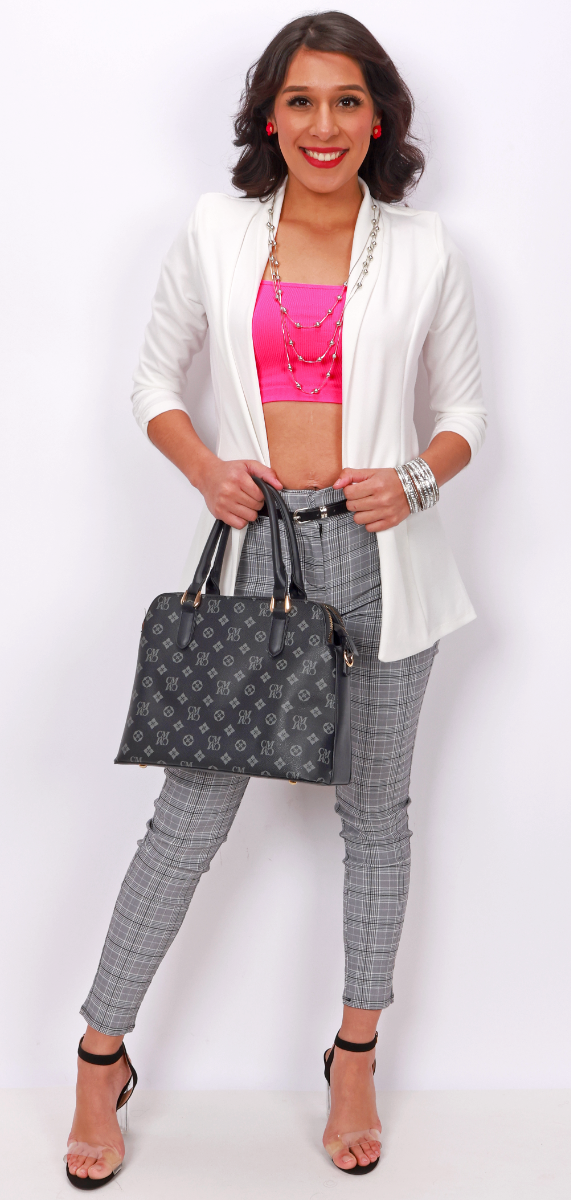 You're an outrageous person, therefore, in need of bold, attention-grabbing fashion. The girl who's the center of attention sets the tone of any conversation and the vibe of a room. A raging party is a serious business, and dressing as such calls for a maximalist fashion approach while staying on trend. Here My Melrose pairs the white "Papermoon" 3/4 Ruched Sleeve Flyaway Blazer over the "Bozzolo" Seamless Square Neck Tank Crop Top. To keep business in order, pull on some "Chocolate" Black and White Plaid Belted Ponte Pants and finish with a pair of black "Glaze" 3" Clear Ankle Strap Heels.
---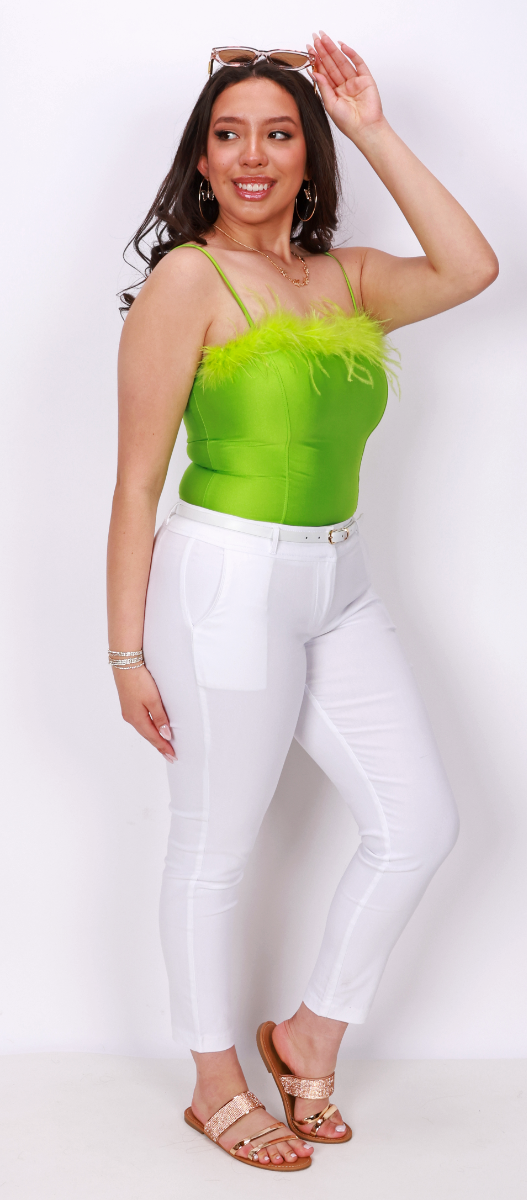 Our lime "Chocolate" Princess Pewter Satin Tube Tank Top has grabbed attention and been coined as "the Grinch" top. While we're not here to steal Christmas (or spring, for that matter), this top is our wildest and most unique yet. It's a play on the Love Bird color selection from Pantone. Our white "Chocolate" Solid Belted Skinny Ponte Pants are an easy match to this challenging color. We finished this look with the Rose Gold "Anna" Flat Rhinestone Triple Band Sandals.
Of the Pantone spring/summer 2023 colors, the best match is Blue Perennial. The best complementary color to contrast Love Bird is a shade of blue with the hexadecimal #1859ff, according to Encycolorpedia. Wear a look like this out and about during the day or at a creative event.
---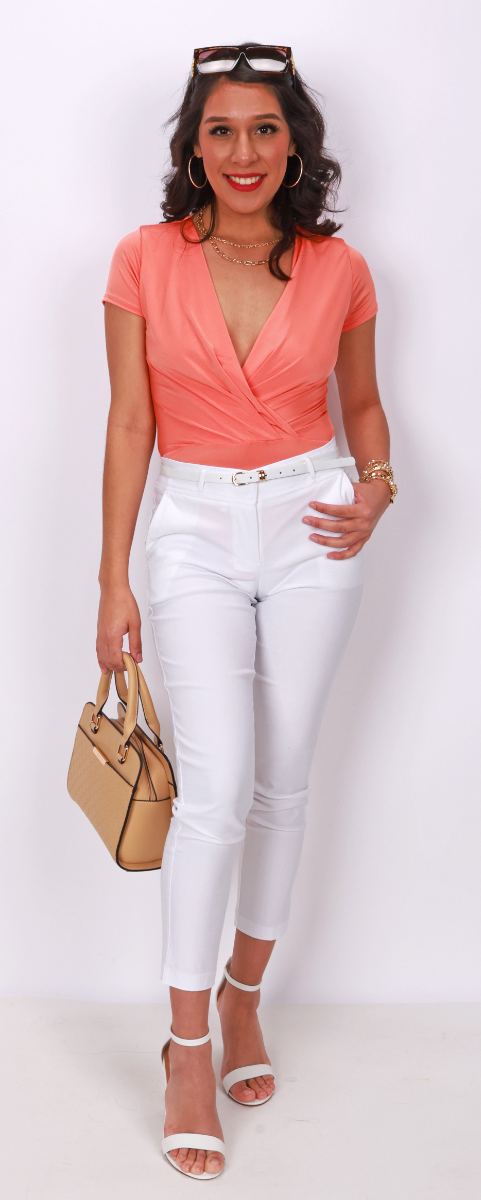 Whether you're a young professional or a cool aunt, this look is perfect to face the day in. Our peach coral "Chocolate" Short Sleeve Deep V-Neck Draped Bodysuit is sweet and delicate as a Georgia peach. You can wear it with our selection of the white "Chocolate" Solid Belted Skinny Ponte Pants and white "Top" 3 1/4" Closed Back Ankle Strap Open Toe Heels. Or you can be bold and glitzy with it for a hot evening out. The bodysuit resembles Pantone's Peach Pink selection for spring/summer 2023. Compliment this color with Pale Cyan for a beachy, road-trip vibe.