Keep it Simple with Seven Denim and Print Looks
Sometimes we look at our closet and think, "I have nothing to wear," and the feeling of frustration resulting in dramatically plopping on the bed with all hope lost. In reality, our closets are full of clothes with various combinations. Take the time to sit with your closet and get creative even with the most basic items you can think of. This week, My Melrose keeps things simple when we run out of creative energy, have a lazy day, or feel overwhelmed. Pull out some jeans and a variety of tops to start with and tune into these seven outfit inspirations.
For the fabulously floral loving friends out there, we have the New Mode short sleeve V-neck floral printed smock corset showcased with different denim jean styles.
The first pairing features the LEV dark exposed button flare jeans. Flare jeans are a simple, yet gorgeous way to create the illusion of longer legs; pair them with heels and you're radiating fierceness. With chains being a current trend, the Top three inch clear heel gold chain slides fit as the footwear. Keep in mind your color scheme when choosing your bag for the day. For this look, we picked the khaki version of the Deluxity cross body horseshoe lock bag for a more earthy theme.
The second photo features a pairing of the New Mode top in black with the Wax medium wash distressed skinny jeans. Sticking with the floral theme, the Iconic p-flat flower thong sandals were best to complete the look.
Love the flare jeans but not super feminine with your style choice? No problem! We have other choices you can take a look at in our previous blog post about wearing 70s inspired fashion. Still not a fan? Think about it like this; take a solid colored shirt, bodysuit, or tank top out of your closet and use the base color as your muse. Layer your outift with different shades of the same color and play with highlights and shadows for a fun challenge to try.
This next selection set pays homeage to cottagecore fans. Cottagecore, for our audience that may not be aware, is a fashion subculture that possesses a romantic theme with a focus on a combination of an idealized rural life and a fairytale aesthetic. One of the most viral pieces of cottagecore fashion is Lirika Matoshi's famous strawberry dress.
My Melrose first features the Papermoon long sleeve rouch cuff floral crop top. Our first photo slide pairs a blue version of the top with the Blue Republic medium wash heavily distressed cuffed denim jeans. Keeping the look consistent, we chose the white Iconic p-flat flower thong sandals and the Pink designer bucket bag with a drawstring chain closure.
Our second photo uses a pink version of the Papermoon crop top and pairs it with the Wax dark cuffed mom denim jeans. While working with a warmer color hue, we selected the Top birkenstock x-toe sandals and finished with the Chumna signature mini backpack.
The final photo slide in the collection shows the Papermoon crop top in brown paired with the Lev medium wash exposed button flare pants, finished with the Top three inch clear heel gold chain slides.
Mix up the Papermoon long sleeve rouch cuff floral crop top with matching ponte pants for a more elevated look; use the base color of your top. Finish off the look with a pair of mules (best option would be braided and white).
In this author's personal belief, plaid will never go out of style (maybe I'm saying this because it's my favorite pattern). Plaid and denim work for a few different fashion subcultures; the pattern is a staple.
Our first outfit showcases the No Comment long sleeve fleece plaid shirt in a denim color with a front tie. We pair this with the Wax dark cuffed mom denim jeans and the Top birkenstock x-toe sandals. The style has a slight western is more versatile as a style choice with the x-toe sandals. The outfit is a cute idea for a barbeque or family picnic.
Second, we feature the No Comment long sleeve fleece plaid shirt in red that projects a more urban feel paired with the Blue Republic dark distressed cuffed denim jeans. We finish the look with the CPC slip resistant six pleat atheltic shoes and the Deluxity black quilted mini backpack.
This outfit choice combines an edgy style with an active lifestyle. The My Melrose choice brings a specific twist on the hip-hop subculture. Hip-hop typically showcases looser clothing; especially in the 90s era. Plaid is a popularly used outerwear choice in hip-hop either with a solid or graphic tee with trousers, skinny jeans, leggings or jogger pants. There are some outfits emerging in the hip-hop community that feature a plaid set that's an outerwear and pant combination.
Modern hip-hop artists seem to take a more grunge approach to their fashion, depending on your infleunce. Some examples include A$AP Rocky, and Trippie Red.
Keeping a consistent color scheme, our third outfit features the same jeans and shoes as the first; however the selected top is the Ikeddi long sleeve plaid crop top with blue as the main color. To add a touch of glam we selected the Pink quilted designer bucket bag with a drawstring chain.
Our final selection repeats the jean and shoe combination in the second photo and features the Ikeddi long sleeve crop top in avocado.
While denim is a solid choice to pair with plaid, there are other avenues to explore with using plaid as a base pattern for your top. Try a rock look by trying leather/faux leather pants with a pair of chunky heeled boots. If said pants rise a bit above the ankle, take it to a new extreme and slide into a pair of platform leather/faux leather heels. For other platform shoe ideas, check out our previous blog post here.
If you're a gal that loves a relaxed outfit and wants to wear denim without sweating in the heat from denim pants, look no further than our first selection. My Melrose combines the F. Web 3/4 sleeve V-neck tie front roll tab script top coupled with the Wax distressed dark denim skirt. Tis look finishes with the Wild women's lace up athletic sneaker. Strut and get things done comfortably in this fit.
The second photo reflects the first, only we changed the footwear to feature the Soda caged brown and gold studded espadrilles. Instead of a complete relaxed look, we wanted to elevate the style to create a more feminine approach. Not too shabby to wear on a day out with your squad.
Our final selection featuring the F. Web 3/4 sleeve V-neck tie front roll tab script top is for the jean lovers. The jeans featured are the Wax light patchwork distressed denim skinny jeans. To finish we added the women's chunky platform lace up sneakers and the Pink designer bucket bag with a drawstring chain closure.
For additional style experimenting, take the the F. Web 3/4 sleeve V-neck tie front roll tab script top and explore the minimalism fashion subculture. Minimalism is simple at its core; whether the garment in question is solid or has a basic pattern; minimalism is also a lifestyle that preaches sustainability. This means you choose your clothing carefully and make it last.
If you're someone who lives this life or merely enjoys less noise in their wardrobe, pair the F. Web 3/4 sleeve V-neck tie front roll tab script top with black ponte pants and a basic pair of black pointed toe flats.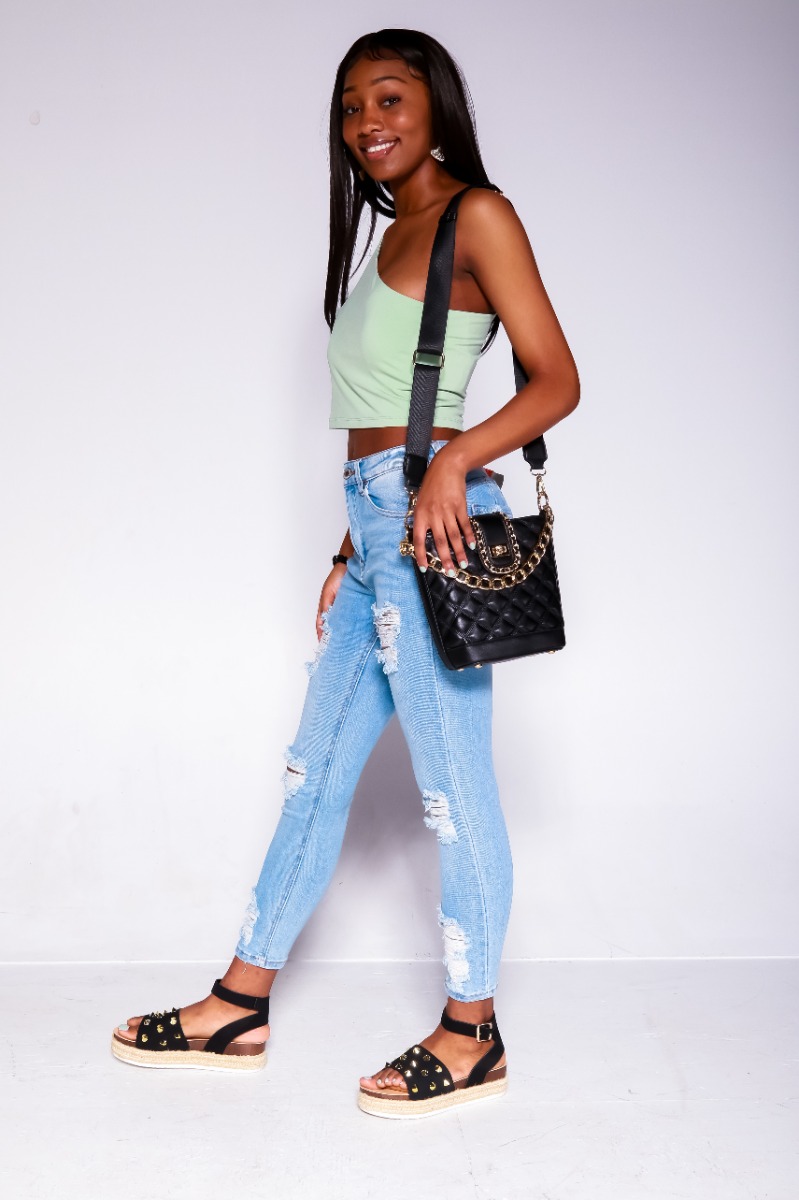 For our friends that don't like the noise of printed patterns, we have a cute solid top and jean combination that's good for an active night out.
My Melrose features the Love Tree one shoulder solid crop top, Wax light wash distressed cuffed vintage jeans, the Forever two inch platform studded espadrilles, and the Deluxity diamond quilt bag with a chain handle. This is perfect for the women that aren't too keen on dresses or skirts for their night on the town.
The one shoulder crop is a versatile piece with it being a basic solid color along with its material easily meshing well with various textures. If you need more of a party look with a one shoulder crop top, try a skirt that is either leather/faux leather or, if you're lucky, one that is sold as a set piece with the top in question. Instead of espadrilles for this idea, go for a pair of ankle strap heels like these. Keep your bag simple with a small clutch, wristlet, or crossbody.
When you know you're going to have a long day of shopping with your gal pals, the best idea is to look put together but stay comfortable in style. The two outfits we selected are nearly identical. The top, pants, and shoes are the same.
Our main outfit components feature the Chocolate short sleeve rouch front double tie top, the Wax dark mom cuff jeans, and the Weeboo black and white lace up athletic shoes. In the first photo, we accessorize the ensemble with the Gina traditional shoulder satchel chevron bag. Our second photo's bag is the Deluxity black quilted mini backpack.
Our final selection takes us to Sunday brunch sipping on mimosas. Each selected outfit is full of vibrance and color that's sure to draw in compliments and solicit attention.
We first showcase the Zenobia long sleeve solid off shoulder spag tie knit top, the Wax medium wash mom cuffed denim jeans, and the Top birkenstock x-toe sandals accessorized with the Deluxity two piece satchel/wallet with tassels.
Our second and third versions of this outfit adds floral to the mix. Both photos feature the Zenobia long sleeve off shoulder floral spag tie knit top and the Wax light patchwork denim skinny jeans. The pink top set has the Soda caged brown and gold studded espadrilles while the black top finishes the look with the Legend two inch lug platform chain sandals.